Conservatory Cleaning Great Dunmow
MXD Window Cleaning also clean Conservatories for the residents of Great Dunmow, Bishops Stortford, Takeley, Little Easton, Felsted, The Rodings, Thaxted, Saffron Walden, Stansted, Hatfield Heath, Hatfield Broad Oak and other local surrounding areas.
Finding a reputable company that takes pride in its work can be tricky which is why we take great satisfaction in our customer Google 5 star reviews which can be seen here.
Our cleaning team takes great care when working on the customer's homes and we always aim to give our conservatory cleaning customer's total satisfaction with the standard of our cleaning. We always make sure that when we have finished cleaning your conservatory that the customer is happy with the job we have done.
Conservatory Cleaning Service
Conservatories are the extra rooms in which you can relax whilst looking into your garden. They are a great place to entertain with your family and friends around for dinner. They are an expensive addition to your home however they do need a periodic clean to keep them at their best.
Due to the environment, ever-changing weather we have in the UK and being built mainly from UPVC a conservatory can over a period of years get to look a little unsightly and neglected. The longer its left to deteriorate the harder it is to clean.
Professional Conservatory Cleaning
Your conservatory roof is exposed to the elements so it takes a lot of punishment. From bird poo to moss, it can end up looking very dirty indeed. This is where we come in. We can have your conservatory roof looking amazing in no time at all!
This is a popular service. If your conservatory hasn't been professionally cleaned in a long time we can transform it. From top to bottom it will be scrubbed and cleaned with all the UPVC and glass polished to leave a superb finish.
With many years of experience, we are your local and experienced conservatory cleaning experts. We have created a specialist conservatory valet service for the customers that love their conservatory.
Our expert cleaners will take care of your entire conservatory, inside and out. Book a conservatory clean with us now and you will soon be enjoying your conservatory again. We will restore it back to how it once was.
How we clean your Conservatory
First of all, we give your conservatory a rinse with normal tap water to dislodge any loose dirt and to soften up any long term stains and bird droppings. We pay particular attention to the frames and roof panels and roof spars as well as any decorative features such as the roof finials.
If possible we prefer to attach our equipment to an outside tap if possible as at this stage we are not using any pure water. We find this method dislodges the dirt a lot faster.
Specialist Cleaning Solutions
The second stage is to apply a high-quality eco-friendly cleaning solution over all the panels, the glass, spars and frames. Our solutions will not damage any of the seals that would lead to water ingress. This is left to dwell for about 20 minutes and is agitated with a specialist conservatory cleaning brush so it can work its magic.
Now that the cleaning solution has worked its magic on your conservatory roof and other parts of your conservatory we begin with the use of elbow grease and time-consuming attention to detail which we need to ensure your conservatory comes up clean as best as it can.
Pure Water Cleaning
We now finish off the process by using our telescopic window cleaning poles and pure water to help in the cleaning process. Pure water is fantastic for cleaning the roof panels especially if they are made from glass.
Full Valet
If you have opted full the full valet we now move to the interior of the conservatory and everything is now cleaned by hand mainly with our mop and squeegee equipment and the secret weapon here is washing up liquid. Washing up liquid combined with a bucket of pure water is the best method we have found for cleaning the insides of the conservatory roof panels and windows. We also clean the interior UPVC with a UPVC solvent-based cleaner. This ensures that the interior UPVC panel work will get a good clean as well.
How much does an average size conservatory cost to clean?
As a professional cleaning company, our prices reflect the amount of time any particular conservatory clean may take. Every conservatory clean will be different and every price will vary. It will also depend on whether you want the interior cleaning as well as the exterior and the exterior roof panels.
The size of the conservatory will definitely affect the pricing as there is no such thing as an average conservatory and the condition of every conservatory will be different.
How do I get a price?
If we are nearby then normally we can visit the same day to give you a quote however if you can send us a few photos we could price the conservatory clean without a need to call by.
How to keep your Conservatory clean?
Periodic use of a hosepipe can make all the difference especially on roofs and the external surface of the UPVC gutters. It's a job that the average householder can accomplish in about 20 minutes. The windows would need a polish afterwards though!
If you would like to have a chat about our services please don't hesitate to get in touch with us. We are also window cleaners and will give you a discounted price if you choose to have your windows cleaned at the same time as your conservatory.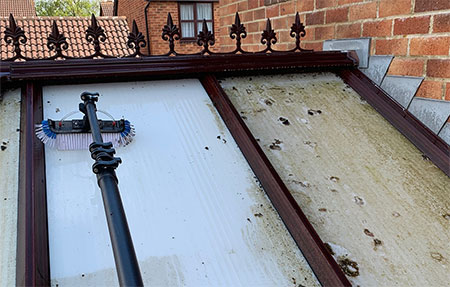 Before Clean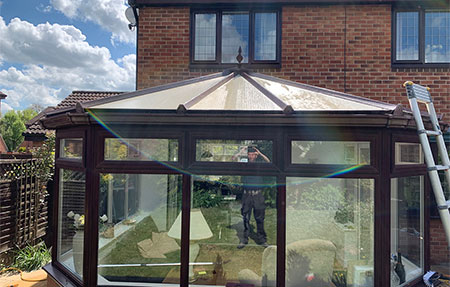 After Clean
Got questions?
Our goal is to provide the best customer service and to answer all of your questions in a timely manner.
1. How long have you been cleaning windows?
MXD was setup in 2020 and we have been providing window cleaning services for over 10 years.
2. How do I pay for my home cleaning?
We only accept – go cardless / bacs / cash / cheques.
3. Do I need to be home during the cleaning?
You don't need to be home for us to carry out our cleaning work, we will give you a courtesy call the evening before to arrange if required.
They trust us
Nothing is more important to us than your satisfaction. You will be happy with the quality of our cleaning services.
Call Us Today For A FREE Quote
Our goal is to answer all your questions in a timely manner.